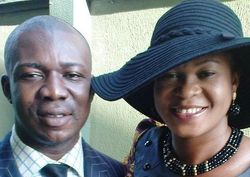 Pastor James Nwaezeigwe has a unique call to minister to those who are hopeless. His vision includes the establishment of a successful arena from where front-line, Christian independent can create anointed, entertaining, and relatable films, television projects, as well as theatrical and musical productions to fill the airwaves with the Glory of God.
Pastor James' dynamic and diligent teaching of Biblical principles is uncompromising and passionate while being encouraging and uplifting. A strong element of his ministry is stirring people to spend time in the presence of the Lord through prayer and the Word, thereby guiding them to discover God's destiny for their lives.
Nationally, Pastor James has addressed pastors and laymen along with his teaching, with words of knowledge and prophecy being a frequent part of the meetings.
Pastor James now resides in Asaba, Nigeria and is the general overseer for DSWM in africa, both in Togo and Nigeria.